Ery 2% Pads
NDC 45802-0962-72
(Erythromycin
Pledgets USP, 2%)
For External Use.
Avoid contact with eyes.
60 pledgets

Rx Only

Perrigo
This product and ALL products on our website are filled and shipped in the USA from our licensed pharmacy in Florida and are FDA approved.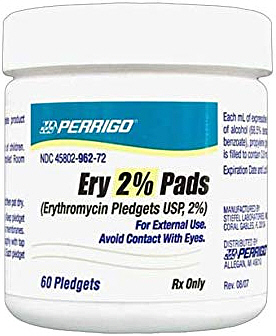 Erythromycin 2% Pads are used to clean the skin and treat acne.
60 Pads Per Jar
$124.99 for 60 Pads
+ prescribing fee & s/h