The photo below is for reference purposes only.
This product is now being professionally compounded in-house as a fragrance-free alternative to available manufactured versions, to the highest standards of pharmacy practice.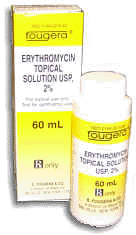 Shown above is the Fougera brand.
No office visit required
Erythromycin 2% Topical Solution is an anti-biotic used for the treatment of acne vulgaris.
$29.99 for 60ml bottle
+prescribing fee & s/h