No office visit required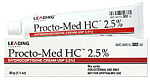 Each gram contains 25mg hydrocortisone in a specially formulated cream base suitable for rectal use. Includes plastic applicator.
Above Photo: Manufactured by G&W Laboratories, Inc & Distributed by Leading Pharma, LLC
Procto-Med-HC Cream 2.5% is a synthetic steroid used as an anti-inflammatory and antipruritic (anti-itching).
This product comes with a plastic applicator for rectal use.
This product and ALL products on our website are filled and shipped in the USA from our licensed pharmacy in Florida and are FDA approved.

$73.99 per 1oz. tube
+ prescribing fee & s/h

---

---