Generic Equivalent to Palgic®
Carbinoxamine 4mg Tablets. Generic equivalent to Palgic, carbinoxamine is an anti-histamine for the treatment of allergy symptoms such as runny nose, sneezing, or itchy or watery eyes.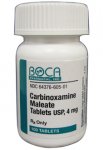 Carbinoxamine tablets are for allergy symptoms such as sneezing, runny nose, itchy/watery eyes.
Typical dosage is 1 to 2 tablets 3 to 4 times a day as needed.
Affordable pricing.