No office visit required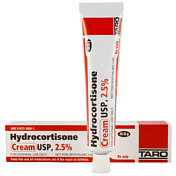 Photo above is not necessarily the brand you will receive. If you want Fougera brand (shown below) you will have that option before checkout. But, it is only available as an ointment, not a cream.

Hydrocortisone Cream USP, 2.5% is a synthetic steroid used as an anti-inflammatory and antipruritic.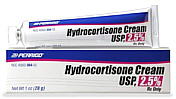 For minor skin irritations and rashes such as insect bites, contact dermatitis, and itching.
Contains 2.5% hydrocortisone. By comparison, over-the-counter products such as Cortaid Maximum Strength and Cortizone-10 contain only 1% hydrocortisone.
This product and ALL products on our website are filled and shipped in the USA from our licensed pharmacy in Florida and are FDA approved.

Starting at $17.99 per 1oz. tube
+prescribing fee & s/h



NEW CLIENT SPECIAL:
BUY 1 TUBE, GET a second tube for just $5
(limited time offer)
Just click here, then 2 pages ahead you'll see this special offer.